Current News
| | | | |
| --- | --- | --- | --- |
| Provincial fur specialist encouraged by rebound in fur prices | | | |
Written by Joel Willick
Monday, 16 October 2017 11:24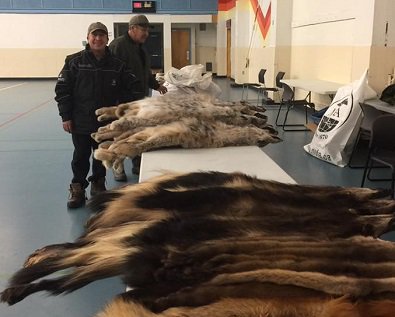 Photo courtesy @NorthSaskTrappers, Facebook.
Saskatchewan's Provincial Fur Specialist says he is encouraged by the fur market prices from this past year.
Over the past few years the wild fur industry has been under stress after many different species were seeing a dip in their average market fur prices.
Provincial Fur Specialist Mike Gollop says previous years have relied on coyote sales to prop-up the market, but now says other fur prices have rebounded.
"The whole fur market was almost being held up by coyotes alone, but now it looks like a number of species are coming back strong, so that is encouraging," said Gollop.
While Gollop says it is difficult to exactly determine what helped the rebound he does say an increase in buyers from China and Greece helped.
The following is the average market prices from Fur Harvester Auctions in the 2016/2017 trapping season:
Beaver - 6.21
Coyote - 110.63
Fisher- U = too few sold to establish a market price
Fox - 25.21
Lynx - U
Marten - 94.95
Mink - 15.77
Muskrat - 5.56
Otter - U
Squirrel - 1.14
Weasel – 4.11
Wolf - 236.00
Wolverine – 328.0
Gollop noted that a jump in muskrat furs to over $5 dollars was a very beneficial turn for a species that is abundant in northern Saskatchewan and is relatively easy to process.
The Provincial Fur Specialist also says trapper license sales in the province are the highest they have been in 25 years.
"Originally we thought that was being driven by coyotes in the south," said Gollop. "You would see guys pick-up licenses only when coyote prices are good, but I think there is more to that for sure."
Upcoming fur auctions include the Fur Harvesters auction on January 8, 2018 and the North American Fur Auction on February 26, 2018.
Last Updated on Monday, 16 October 2017 11:27
| | | | |
| --- | --- | --- | --- |
| RCMP Investigate Suspicious Fire in Stanley Mission | | | |
Written by mbcnews
Monday, 16 October 2017 06:41
RCMP would like to hear from anyone with information on a fire in Stanley Mission.
Last Wednesday morning fires were reported in a vacant home and a shed in the backyard.
A 23-year-old man was found in the shed and taken to hospital with serious injuries.
Investigators say the fires are considered to be suspicious and provincial fire examiners were brought in to assist.
Anyone with information is asked to contact the RCMP or CrimeStoppers.
Last Updated on Monday, 16 October 2017 06:44
| | | | |
| --- | --- | --- | --- |
| Small explosion reported in acid plant sulphur furnace at Key Lake | | | |
Written by mbcnews
Friday, 13 October 2017 15:21
The Canadian Nuclear Safety Commission says there was a small propane explosion in the acid plant sulphur furnace at Cameco's Key Lake mill earlier this week.
The CNSC says it happened on Tuesday when workers were initiating the start-up of the plant.
The commission says no one was hurt and there was no measurable impact to the environment, noting the facility safety systems functioned as designed.
The plant produces acid for uranium processing purposes at the mill, but doesn't process uranium itself.
The commission says Cameco's Key Lake emergency response team responded appropriately to the event.
The CNSC says it and provincial regulators have been notified.
Meanwhile, the company is investigating the cause of the explosion and possible damage to the internal workings of the sulphur furnace.
The CNSC says Cameco will be providing the commission with a summary of the investigation and corrective actions.
« StartPrev123456

7

8910NextEnd »
Page 7 of 3168