Current News
| | | | |
| --- | --- | --- | --- |
| Blanket exercise adds new dimension to RCMP training | | | |
Written by Manfred Joehnck
Monday, 04 December 2017 17:31
Blanket exercise at RCMP Training Academy in Regina on December 4, 2017. Photo by Manfred Joehnck.
Instructors at the RCMP Training Academy in Regina took part in a blanket exercise on Monday. It gave them a unique and emotional connection to the Indigenous community and will become part of the training for all new recruits beginning Tuesday.
The 25 instructors gathered in a circle then stood on blankets representing a 500-year time period from pre-contact to the resistance to the displacement and oppression of Canada's First Peoples.
As the instructors went through the training, they were removed from their blankets representing Indigenous people who died of European diseases, starvation or were just displaced from their land.
All of this took place under the watchful of a First Nations knowledge keeper.
The training began with a smudging ceremony and ended with a closed-door debriefing session where members talked about the training and how it affected them and their perception of the pain and suffering endured by generations of First Nation peoples during the last 500 years, including recent legal victories on First Nations and Metis rights.
The blanket exercise has been around for 20 years since the release of the Royal Commission on Aboriginal Peoples report in 1996, but this is the first time it has become part of routine trading for the Mounties.
Up until now, the training on Indigenous history consisted of PowerPoint displays and lectures.
Instructors say the blanket exercise is a way to experience and appreciate the hardships faced by Indigenous nations over the last five centuries, providing a better appreciation and understanding of the difficulties still experienced today.
| | | | |
| --- | --- | --- | --- |
| Transition for NORTEP students comes under fire at legislature | | | |
Written by Joel Willick
Monday, 04 December 2017 15:00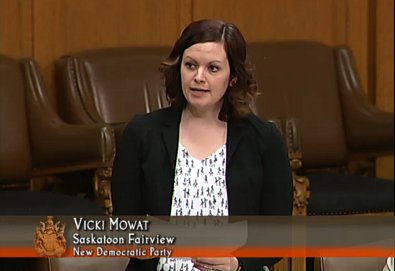 A screenshot of NDP Advanced Education Critic Vicki Mowat during the sitting of the Legislative Assembly on December 4.
The NDP opposition is criticizing the provincial government for the transition process for students following the closure of the Northern Teachers Education Program.
This past March NORTEP was taken over by Northlands College.
There have been some reports of transition issues through the process. Some students have claimed they didn't know what financial supports would be available to them until it was too late.
During Question Period on Monday NDP advanced education critic Vicki Mowat says students had more questions than answers during the transition process.
"Students knew their program was being cut, but they didn't know what supports would be available to them," Mowat told the assembly. "These are not families that can afford to plan around so much uncertainty."
Mowat also questioned why the government would decide to close a program that has been running for over 40 years. She also questioned the decision to chose Northlands College when the selection committee chose Gabriel Dumont Institute.
Advanced Education Minister Herb Cox says the Sask. Party Government is committed to post-secondary education in the north.
"We acknowledge that this transition has been a challenge for the community and we are confident the enrollments will increase as Northlands College increase their recruitment efforts," he said.
Cox also spoke on the over 40 year history of Northlands College and their increase in university services over the past decade. He repeated the government's position that the consolidation of NORTEP is about sustainability.
No official numbers are available at this time to provide accurate enrollment numbers in the program for this year, however some have reported anecdotally that numbers are down.
Last Updated on Monday, 04 December 2017 15:03
| | | | |
| --- | --- | --- | --- |
| Federal court to decide legitimacy of Montreal Lake by-election process | | | |
Written by Joel Willick
Monday, 04 December 2017 13:36
A federal court application is in the works seeking a judge's decision on the legitimacy of a recent by-election process on Montreal Lake Cree Nation.
The contested by-election for chief was originally called in September by the band's chief electoral officer.
During the process, Frank J. Roberts was selected as chief by acclamation after he was the only one to submit a declaration of intent.
Roberts had been disqualified from the band's general election in March, but an appeals tribunal ruled he should be able to run for the position of chief.
Edward Henderson -- who was re-elected as chief during the March election -- is still recognized as the MLCN chief, according to a November 27 letter from Indigenous and Northern Affairs to the band council.
Indigenous and Northern Affairs says it is up to Montreal Lake to resolve this matter because the First Nation has a custom election act separate from the department.
Henderson is contesting the by-election and Roberts' claim as chief. Henderson called the matter a "run-away" process.
Henderson is proposing another general election for chief and council in January to save money on court costs.
"By calling a general election, I hope to end this political division within the bands government," said Henderson in a media release. "An election is necessary; to clear any misgivings, to restore effective governance and to save the band from the additional expense of prolonged legal battles."
Chief electoral officer Clifford Bird says the by-election was only for the position of chief and he feels it is unnecessary to call an election for council members, as well.
Bird says his legal counsel has already filed a court application to get a federal judge to rule on the legitimacy of the recent by-election process.
"I am still maintaining that due diligence on my part was taken," Bird told MBC. "I have done every step I felt was the right step to take in accordance with the election act we have."
No word yet on when the judge's decision on the matter will be rendered.
Last Updated on Monday, 04 December 2017 17:10
« StartPrev1234567

8

910NextEnd »
Page 8 of 3219