Current News
| | | | |
| --- | --- | --- | --- |
| "Tremendous opportunity"; Indigenous business leader calls for First Nation investment in Saskatchewan | | | |
Written by Joel Willick
Friday, 13 October 2017 11:22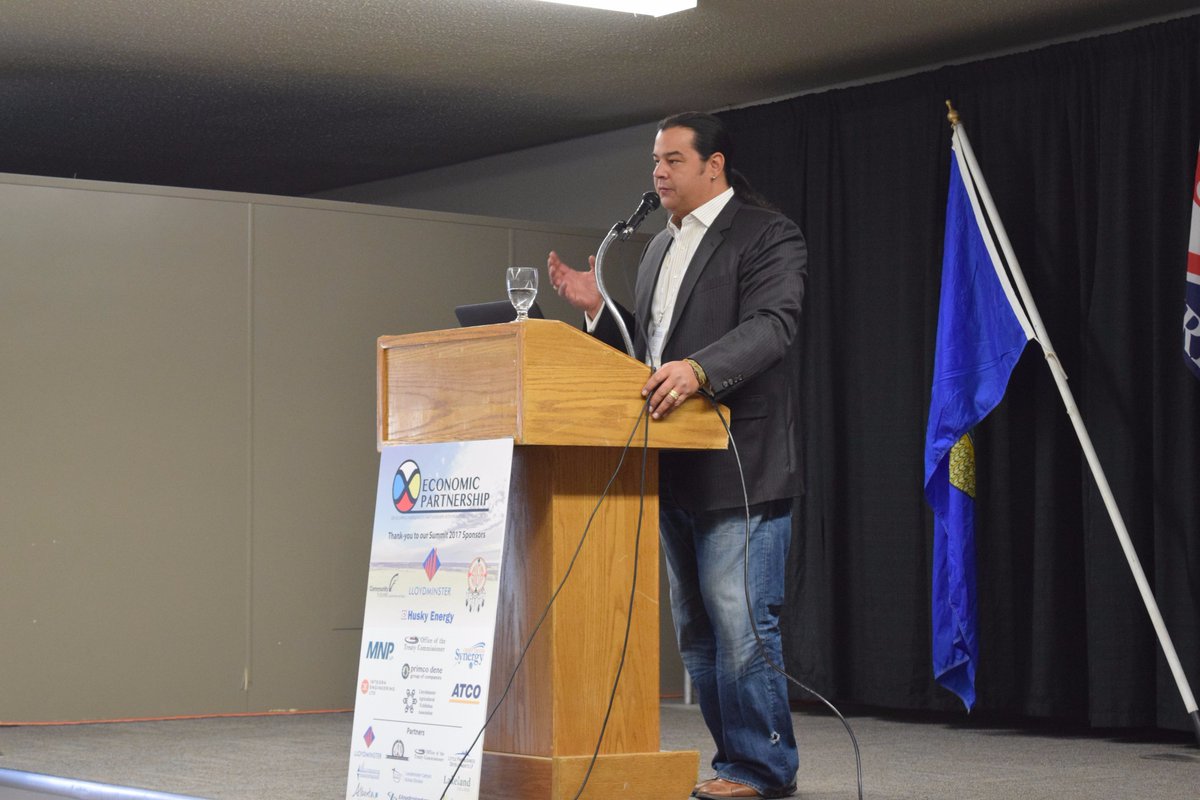 SFNED Executive Director Shaun Soonias speaking at a business summit in Lloydminster.
A prominent Indigenous business leader is urging First Nations to invest in the Saskatchewan economy.
Shaun Soonias, the Executive Director of the Saskatchewan First Nations Economic Development Network, says the province is rich in resources and economic opportunities.
Soonias drew attention to the oil and gas industry, uranium, potash, agriculture, manufacturing, and mining as the many opportunities for investment. The Fraser Institute recently declared Saskaatchewan the number one jurisdiction in the world for mining attractiveness.
"We are missing out on tremendous opportunities," said Soonias.
He says too often foreign investment drives the market and he says now is the time for First Nation investment to get involved.
"Wherever you go in Saskatchewan there is a First Nation and Tribal Council that's close by," said Soonias. "How do we open our doors to the surrounding communities? How do we bring the jobs to these communities?...The best way we can do that is look how First Nations can invest in their regional economic development."
Soonias says many first nations do have the finances available in trust funds, land entitlement dollars and other impact benefit agreements.
While he admits any investment comes with risk he says the opportunities could be substantial.
"We can no longer play catch-up we have to play leap-frog," he said.
Soonias was a keynote speaker at a business summit in Lloydminster on Thursday.
Last Updated on Friday, 13 October 2017 11:23
| | | | |
| --- | --- | --- | --- |
| Lloydminster casino slated for fall 2018 opening | | | |
Written by Joel Willick
Friday, 13 October 2017 11:18
A model photo of the casino.  Courtesy SIGA.
The President of the Saskatchewan Indian Gaming Authority says the new casino build in Lloydminster is on time and on budget.
Official construction on the casino began in early September by the Border Tribal Council. Crews spent the summer months conducting ground-work.
While SIGA President Zane Hansen says the work-crews did experience some weather delays he says construction is on time.
"We are not going to waste any time, so once it's done we will get the word out and we are targeting an official opening time for late August early September (2018)," he said.
Hansen says he expects the casino to have a strong economic impact on the region.
"The casino is expected to create over 140 jobs," he said. "All of our partners at all of our casinos set up community development corporations and they invest in community initiatives, so you will see a lot of development on that front as well."
The economy in Lloydminster is heavily reliant on the oil and gas industry and the sector is currently experiencing a downturn. However, Hansen says he is still confident in the casino being a viable money making option in the Border City.
"You always watch the economy an all fronts, but there is a large regional population here and that is what we look at," he said. "To us it is still a diverse economy, so we don't have any fears that way."
The casino is expected to create 140 jobs and will cost 24.5 million dollars to build.
Last Updated on Friday, 13 October 2017 11:21
| | | | |
| --- | --- | --- | --- |
| Prince Albert businesses are working with a non-profit to assist young athletes | | | |
Written by Travis Radke
Friday, 13 October 2017 10:33
Prince Albert KidSport chairperson Dwight Bergstrom explains how the non-profit benefits the community at the showroom in Lakeland Ford. Photo: Travis Radke
A non-profit organization is working with Prince Albert businesses to bring sports to youth in poverty.
KidSport is placing boxes at stores around the city that will be taking sports equipment to be donated to the city's less fortunate.
The organization is hoping the public will rise to meet the needs of the many young people in Prince Albert who cannot afford organized sports.
"Last year we sponsored, I think, 360 kids. We can sponsor $500 per child, but the average amount is $250, since some sports are just more expensive than others," says the chairperson of KidSport's Prince Albert branch, Dwight Bergstrom. "There's probably 4,600 kids living below the poverty level in Prince Albert. Serving 350 kids is really just a drop in the bucket of the people who really need our help."
Boxes accepting donations will be placed at Lakeland Ford, Gene's Cycle and Sports and Source for Sports this Saturday.
Cash donations can also be made at the KidSport website.
Last Updated on Friday, 13 October 2017 11:31
« StartPrev12345678

9

10NextEnd »
Page 9 of 3168