Current News
| | | | |
| --- | --- | --- | --- |
| Buffalo Narrows woman facing manslaughter charge | | | |
Written by mbcnews
Thursday, 12 October 2017 16:09
A 52-year-old woman from Buffalo Narrows is accused of killing another woman from the community.
RCMP say Brenda Laura Tobac was arrested without incident yesterday and charged with manslaughter.
The charge is in relation to the death of 56-year-old Lillian Wuttunee in Buffalo Narrows last month.
Wuttunee was found injured and unresponsive in a local residence on the evening of September 25, and was later airlifted to a Saskatoon hospital but succumbed to her injuries.
Tobac remains in custody and will make a court appearance in Buffalo Narrows on November 8.
Major crimes detectives are involved in the investigation.
| | | | |
| --- | --- | --- | --- |
| UPDATED - Co-accused in killing of La Ronge restaurant owner given 7-year sentence | | | |
Written by David Smith, Kelly Provost, Dallas Hicks
Thursday, 12 October 2017 15:39
Cora Laich, clutching a photo of husband Simon Grant, speaks to reporters outside La Ronge courthouse. Photo by Dallas Hicks.
A 19-year-old man has been handed a seven-year prison sentence for his role in the killing of La Ronge restaurant owner Simon Grant earlier this year.
With credit for time spent in remand factored in, Austin Bird's sentence amounts to six years, 114 days.
The Crown was seeking an eight-year sentence, while the defence wanted five years.
Judge Sid Robinson handed down the sentence this afternoon in La Ronge Provincial Court.
Bird pleaded guilty to manslaughter last month.
Grant's widow, Cora Laich, spoke with the media outside of the court today.
She says she has mixed feelings about the sentence handed down.
"I have to say that it meant a lot to me that he pled guilty and he stood up for what he did," she says. "I don't say that I agree totally with the sentence."
Laich no longer lives in La Ronge, but says she feels it is important for her to travel to attend the court proceedings.
"It feels okay to come back because of the support I have here and knowing Simon would want me to be here", she says."
Three other males facing charges in connection to Grant's death still have their matters before the courts.
An interim publication ban on details related to the case is still in effect.
Matters related to the publication ban will be heard in La Ronge on October 27.
Last Updated on Thursday, 12 October 2017 17:41
| | | | |
| --- | --- | --- | --- |
| Business relationships between Indigenous and non-Indigenous communities vitally important say conference organizers | | | |
Written by Joel Willick
Thursday, 12 October 2017 15:38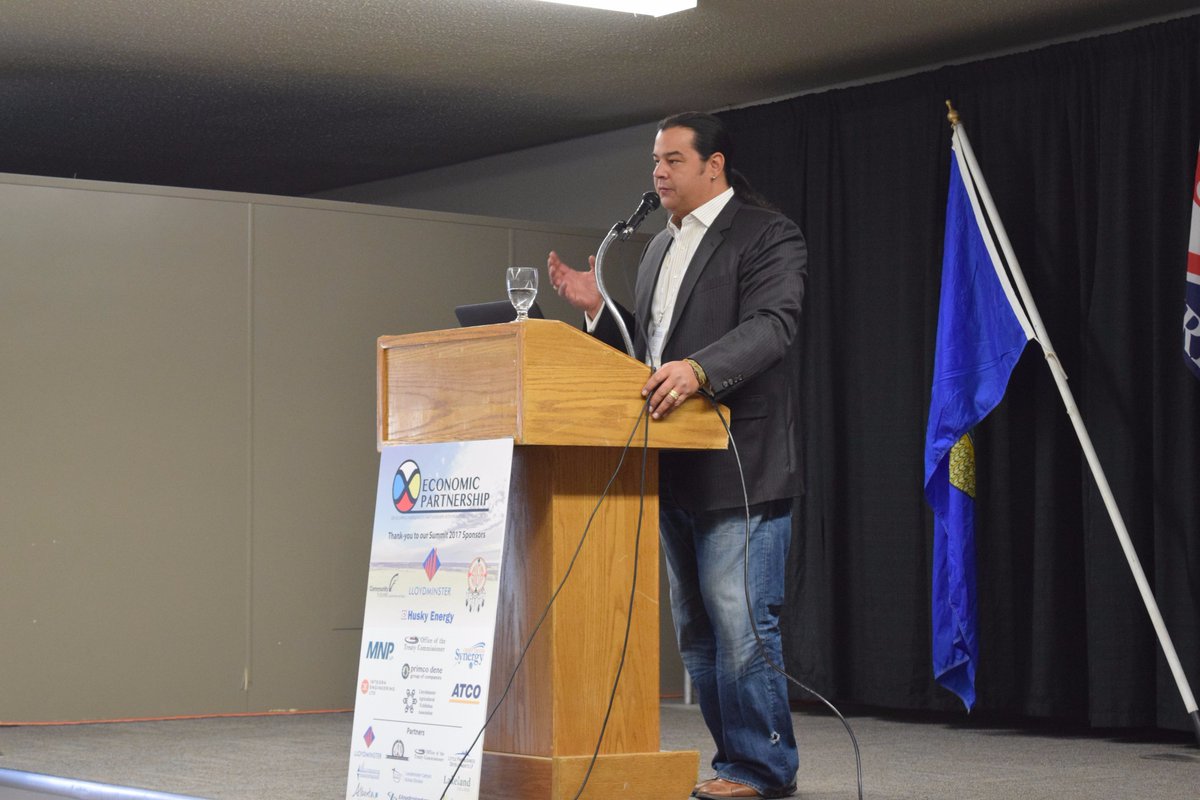 FNEDN Executive Director Shaun Soonias speaking at a business summit in Lloydminster.  Photo by Joel Willick.
An annual Economic partnership summit in Lloydminster on Thursday looked at ways to grow business deals between Indigenous and non-Indigenous communities.
Organizers say successful events in the past have given them hope the fifth Economic Partnership Summit will lead to real and concrete business deals.
The day started off with attendees reading from the Truth and Reconciliation Commission Calls to Action. Specifically Call to Action 94, which called on the business sector to be an active participant in reconciliation.
"If we don't change how we communicate and work with our neighbours things may not change and improve," said organizer Milton Tootoosis who is also a Poundmaker First Nation band councillor. "There is an urgent call to change how we did things in the past."
The one day summit featured representatives from communities and organizations from around the region.
Tootoosis says building successful partnerships between these Indigenous and non-Indigenous communities is vitally important to economic prosperity for everyone.
"We are trying to expose our Indigenous and non-Indigenous people in this region to the idea that partnership is the way of the future because no community can do it on their own," he said.
Shaun Soonias, Director of the Saskatchewan First Nations Economic Development Network, echoed those sentiments.
"We need to let our guards down, get to know each other and through these processes we will find many opportunities we are not currently exploring," said Soonias.
The summit used to be known as the Indigenous Economic Partnership Summit, but Tootoosis says they changed the title to encourage non-Indigenous communities to attend. He says some communities mistakenly thought the summit was just for Indigenous communities.
"I think it worked because I see more non-Indigenous people here than years before," said Tootoosis. "If Indigenous people win, everybody wins."
The summit featured several keynote speakers highlighting successful business partnerships. The speakers included Shaun Soonias, Lac la Ronge Indian Band Chief Tammy Cook-Searson and SIGA President Zane Hansen.
After the keynotes the summit was opened up for all of the attendees to network and have an opportunity to strike deals and partnerships on the spot.
Last Updated on Thursday, 12 October 2017 16:29
« StartPrev123456789

10

NextEnd »
Page 10 of 3168