Current News
| | | | |
| --- | --- | --- | --- |
| Saskatchewan Environment expects a good moose hunt this fall | | | |
Written by David Smith
Tuesday, 12 September 2017 10:53
Photo courtesy of cwf-fcf.org
Officials with Saskatchewan Environment say there should be a good moose hunt this fall.
Wildlife Biologist Rob Tether says the moose population remains strong in most areas of the province. He says a mild winter meant a good start to the year in both the northern and southern parts of the province.
"Moose came into the spring in really good condition, the natural mortality should be low, calf production would be very good, a lot of twinning occurred this spring," he said.
Tether says one area of concern is the boreal forest region south of La Ronge, where moose numbers have been on the decline for the past few years.
"South of La Ronge, as you move down toward Prince Albert, the numbers are definitely lower than they were 15 or 20 years ago, and there are a whole number of factors that are impacting that," he said.
Tether also says parts of the north are starting to see the benefits of the forest fires, which were experienced during the summer of 2015. New moose habitat can be found in areas that were burned out.
Most limits for sport hunters remain the same this year, with slight reductions in some wildlife management zones.
The latest information on big game hunting can be found in the Hunters and Trappers Guide at saskatchewan.ca/hunting
Last Updated on Tuesday, 12 September 2017 10:59
| | | | |
| --- | --- | --- | --- |
| Black Lake man dead after crash near Christopher Lake | | | |
Written by mbcnews
Tuesday, 12 September 2017 09:21
File photo
RCMP are investigating a vehicle-pedestrian collision that took the life of one person last night.
The crash on Highway 2 near Christopher Lake was reported shortly after 8:00 p.m. Monday. Police say the pedestrian was hit by a northbound vehicle.
The pedestrian, a 55-year-old man from Black Lake, was pronounced dead at the scene. The driver of the vehicle was not injured.
The victim's name has not been released and it's not known if any charges will be laid.
Last Updated on Tuesday, 12 September 2017 09:26
| | | | |
| --- | --- | --- | --- |
| First Nations work to establish business plans | | | |
Written by Manfred Joehnck
Monday, 11 September 2017 15:43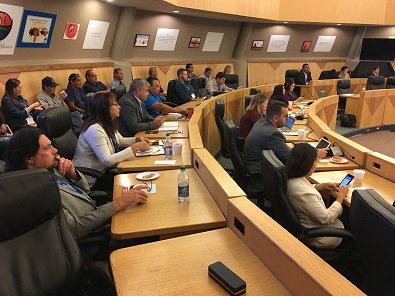 Delegates from several First Nations gather at business forum at Treaty Four Governance Centre.  Photo by Manfred Joehnck.
About 75 delegates from First Nations around Southern Saskatchewan got a crash course on the new world of business opportunities today.
They attended a forum at the Treaty Four Governance Centre in Fort Qu'Appelle put on by the First Nations economic development network.
Executive director, Shaun Soonias says it is a rapidly changing business world with new opportunities emerging every day.
"So we need to work from developing gas stations and convenience stores to having information hubs and implementing things like different technology in the agricultural field," he said. Soonias adds,"We really have to look at what is coming down the pipe and be ready for it. "
One of the presenters at the forum was Thomas Benjoe, the president and C.E.O. of File Hills, Qu'Appelle development. He was a former banker and knows the difficulty First Nations face trying to get financing to develop a business portfolio and move away from reliance on government funding.
"We seem to see the public blame them for their own inability to manage, but it's not that," he said. "It's the system, the system affects their ability to manage."
He says other groups that rely on government funding don't face all of the red tape, regulations and restrictions that First Nations have to deal with.
Benjoe says FHQ started with no capital, no companies, but it had a vision, good governance, including outside experts and now has a portfolio with annual revenues of 35 million.
The one day business forum is a response to one of the calls to action in the truth and reconciliation report that states the corporate sector must engage in meaningful consultation and develop respectful relationships with Indigenous communities and businesses. The focus was on youth, building partnerships, understanding the changing business climate and learning the Ins and Outs of how to develop a diversified portfolio.
Last Updated on Monday, 11 September 2017 15:54
« StartPrev

11

121314151617181920NextEnd »
Page 11 of 3134