Current News
| | | | |
| --- | --- | --- | --- |
| Indigenous treaties, topic of new book for students in Ontario | | | |
Written by Travis Radke
Tuesday, 07 November 2017 10:24
Photo courtesy of Anishinabek Nation
Alex Shares his Wampum Belt and Dakota Talks about Treaties will attempt to explain the agreements between the government and Indigenous people to young students.
The books were launched on Monday by the Anishinabek Nation in Ontario at a school on the Whitefish River First Nation.
The pair of publications are meant to be complementary to the "We are all Treaty People" kit.
"(The books) will help students at a younger age learn about the treaty relationship," said Anishinabek Nation Grand Council Chief, Patrick Wedaseh Madahbee. "Teachers will be getting out the message that treaties are the legally binding, and sacred agreements that set out the rights, responsibilities, and relationships of First Nations and federal and provincial governments."
The author of the books, Kelly Crawford, is a member of the M'Chigeeng First Nation, as well as an educator.
"(The books are) really about getting more awareness out there, opening up the discussion about treaties and the relationships that are often strained by -- well everyone involved," said Crawford.
The stories will be available in French and English for schools or individuals. While the initiative is based in Ontario, anyone can purchase copies of the story by contacting the Anishinabek Nation office.
Last Updated on Tuesday, 07 November 2017 10:34
| | | | |
| --- | --- | --- | --- |
| La Ronge resident encourages people to check their bills before they pay | | | |
Written by Joel Willick
Monday, 06 November 2017 16:21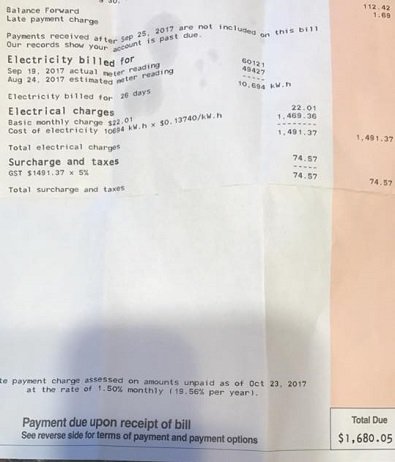 A photo of the incorrect bill.
A La Ronge resident is encouraging SaskPower customers to check their bills before they pay.
Candace Caisse recently received a bill with a $1,400 charge that she was not expecting. Caisse felt the bill was incorrect, so she called SaskPower to inquire. She was initially informed it was due to a meter reading, but when she went outside to check, the number on her meter was far different than the number on the bill.
SaskPower did admit their error and apologize. However, Caisse is concerned many people would have paid the bill without realizing the mistake.
"I feel sorry for elders and others that may have had this happen to them," she wrote on her post.
She is encouraging people to "Question their bill."
Caisse says she was also concerned that if she did pay the incorrect bill SaskPower would have only given her a credit as a refund.
"I wouldn't have got a cheque or any money back," Caisse told MBC. "What if I needed that money for other bills or for my kids. People can't just throw $1,400 on a power bill and just leave it."
Caisse's Facebook post on the matter has been shared over 800 times.
"Obviously I am not the only person who this has happened to," she said.
A spokesperson for SaskPower informed MBC that the utility is willing to send customers a cheque on any amount owing if the amount is significant and if the customer requests a refund.
SaskPower also says most meters are checked every three months with farms, resorts and communities under 500 being checked annually.
No official numbers yet from SaskPower as to how often an error is made while reading a meter.
SaskPower also says they encourage anyone who has questions about their bill to call their customer service line.
Last Updated on Monday, 06 November 2017 17:01
| | | | |
| --- | --- | --- | --- |
| La Ronge Medical Clinic introduces new policy to curb no-shows | | | |
Written by Joel Willick
Monday, 06 November 2017 15:56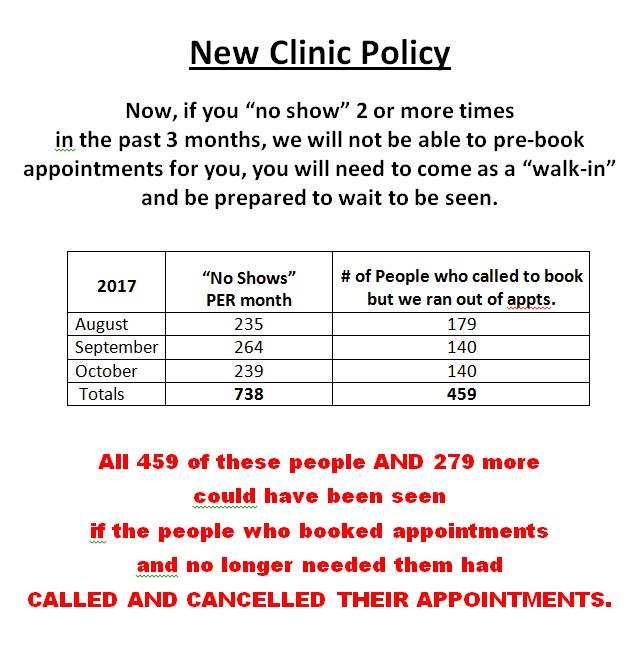 New policy posted to the clinic's Facebook page on Monday.
Over the past three months the La Ronge Medical Clinic has had nearly 750 of their patients no show scheduled appointments.
During that same time period a spokesperson for the clinic says they have turned away over 450 patients because of previously scheduled appointments.
That's why the clinic has introduced a new policy, which restricts those who have no showed at least twice in the past three months to walk-ins for their next appointment.
"We don't want it to be a punishment," said Clinic Manager Rhonda Oliver. "We just want to say that we have people who are really sick and if you are not going to attend your appointment please call ahead and cancel so we are not turning people away."
Oliver says once the no-shows attend two walk-ins they will be able to pre-book their appointments again. She says this is a temporary measure that they plan to revisit in the coming months.
On average during the months of August, September and October Oliver says the clinic had between 8 and 20 no shows every day.
"We could have seen a whole lot more people if we had cancellations," she said.
Last Updated on Monday, 06 November 2017 15:59
« StartPrev

11

121314151617181920NextEnd »
Page 11 of 3197