Current News
| | | | |
| --- | --- | --- | --- |
| New award introduced by Saskatoon-based mining group | | | |
Written by Travis Radke
Friday, 08 December 2017 08:49
Photo courtesy of imii.ca
A Saskatoon-based mining group is introducing a new award for innovation.
The International Minerals Innovation Institute announced its innovation award earlier this week. The award is also known as the "Best Prototype Award." It will be given for the first time at the mining group's annual forum in Saskatoon during April of next year.
The award will recognize a winning design that helps to improve the mining industry in a significant way.
"We're hoping to receive ones (submissions) that really help solve significant challenges for the industry," said IMII Executive Director, Al Shpyth. "Things that offer an advantage over existing technologies and could help us with emissions from the sites, minimizing land disturbance, improving waste management practices (and) improving energy efficiency."
In an interview with MBC, Shpyth spoke about how many of the province's mining operations could possibly benefit from developments in other segments of the economy.
"Perhaps there is something that Saskatchewan supply chain people have developed for oil and gas or manufacturing that could be of use to us. We'd really like to open our doors and our minds to those innovations that could come from outside our sectors," said the executive director.
He also noted that the award's winner could come from an organization of any size.
"The supply chain in Saskatchewan is a really good mix of small and medium-sized companies. Some small two (or) three-person shops, and there might even be some really innovative individuals out there," said Shpyth.
The winner of the award will be considered for funding by the IMII under their Operationalizing Innovations Program, and may be considered for the Saskatchewan Commercial Innovation Incentive if the commercial product based on the prototype is developed in the province.
Details and applications for the award can be found on IMII's website.
Last Updated on Friday, 08 December 2017 09:09
| | | | |
| --- | --- | --- | --- |
| Premier Brad Wall delivers his final speech in legislature | | | |
Written by Manfred Joehnck
Thursday, 07 December 2017 15:02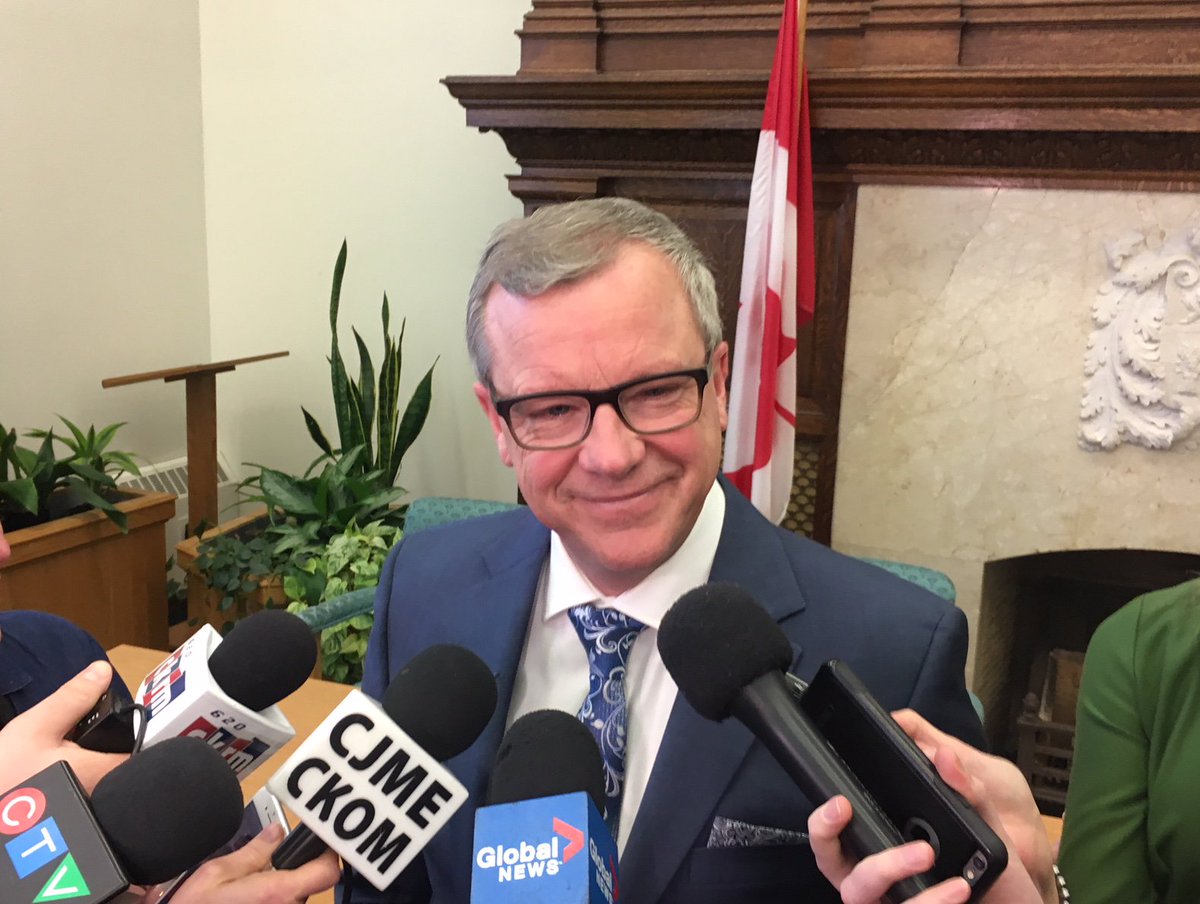 Brad Wall speaks to reporters after his final speech in the legislature.  Photo by Manfred Joehnck.
It was a day of tributes, some sadness and a little humor as Brad Wall made his last speech in the assembly.
He says representing the people of Swift Current for the past 18 years has been the best job of his life.
He says he will miss the job and miss the people, but he is also anxious to spend more time with his family, and is ready to be known, as " just Brad."
"So if I don't have to share my name or identity with any official office or title I have more time to give back to my family, and by the say that is not a chore, that will be fun, and I look forward to that," he said.
The Premier says he is not sure what he will do next, but it won't be politics. He indicated working on public policy, possibly in the health care field may be of interest to him.
The NDP opposition thanked him for his years of service and for the contributions he has made. Interim leader, Nicole Sarauer says Wall made her a better politician.
"The opportunity to go toe to toe with the Premier in question period has allowed me to grow as an MLA, and I think what you saw today is largely reflective of this building," she said.
What was seen today, was both sides of the house, putting aside political differences and coming together to honor the contributions of Brad Wall and recognizing that no matter the political philosophy all politicians are striving to make Saskatchewan a better place for its residents.
The Sask party will pick its new leader in January, the NDP will hold its leadership convention in March.
Today was also the final day of the fall sitting, so when the house resumes in the spring,  both parties will have new leaders.
Last Updated on Thursday, 07 December 2017 15:06
| | | | |
| --- | --- | --- | --- |
| Northern Saskatchewan chief petitions Ottawa for policy changes in on-reserve emergency management | | | |
Written by Joel Willick
Thursday, 07 December 2017 12:46
Lac La Ronge Indian Band Chief Tammy Cook-Searson. File Photo.
The chief of the Lac La Ronge Indian Band is petitioning Ottawa for better funding policy and First Nation involvement for on-reserve emergency management.
Chief Tammy Cook-Searson spoke to a standing committee from Indigenous and Northern Affairs earlier this week in the nation's capital on "Fire Safety and Emergency Management in Indigenous Communities."
She spoke about the wildfires of 2015. The fires saw the largest ever evacuation in Saskatchewan history, with approximately 15,000 people being displaced from their homes.
"It was an incredibly trying and difficult time," she told the committee.
During her presentation, Chief Cook-Searson laid out concerns and recommendations that arose during the response and evacuation to the wildfires. She asked for a change in funding policies, for more First Nation involvement in emergency response operations and asked for clarification of provincial roles and responsibilities in emergency response as it relates to First Nation communities.
"Unlike urban and rural municipalities, who leverage land tax revenues to support emergency response activities, (First Nations) rely on INAC funding through federal funding programs and services," she explained. "In most cases, our communities don't have the capacity to cover interim expenses related to emergency planning and response, and we are unclear as to how or how quickly funds can be accessed from the federal government."
Chief Cook-Searson says the LLRIB spent $800,000 of its own money in the emergency response efforts in 2015 before being reimbursed nearly a year later.
Throughout the 2015 fire season, Cook-Searson questioned why First Nation firefighters from northern Saskatchewan were evacuated instead of being allowed to stay and help fight the fires. She brought this up during the committee meeting and also questioned why other First Nation communities who offered help in the efforts were denied.
"As a result of the overload of the situation on the Red Cross, we failed to understand why the offer for help for accommodations from other First Nations was denied," she said. "There were no government policies that described what the requirements were for a community to be approved as a host community, so what needs to be done for that to change?"
Chief Cook-Searson's report has now been put on the public record and will be a resource for policy makers in the future.
Last Updated on Thursday, 07 December 2017 12:51
« StartPrev123

4

5678910NextEnd »
Page 4 of 3219